Legal services
The range of activities requiring legal aid is basically unlimited. Although we may not realize it, every day we enter into legal relations involving predominantly concluding purchasing contracts, freight contracts or various property relations. Our office is ready, both in terms of expertise and personnel resources, to grant legal aid especially in the following areas:
Representation of citizens and corporate entities at courts in all instances
Legal aid when the right to seek compensation for damages, including compensation for damages incurred upon public authority enforcement
Drawing up contracts for real estate, contracts of purchase, loan contracts, and rental contracts
Housing law
Divorce law, representation in custody proceedings
Privacy law
Defence at criminal proceedings before police authorities as well as at the courts of justice
Legal aid and representation of aggrieved parties in criminal proceedings
Representing persons during traffic offence proceedings and proceedings pursuant to the building act
Granting legal aid to non-governmental health care institutions and liberal professions
Commercial law (corporate law for private and publicly traded companies, modifications to the corporate legal conditions, board meetings, general meetings, shareholders' agreements, fusions and acquisitions, debenture law, legal audits - due diligence)
Intellectual property law
Labour law (modifications to the legal conditions of higher management and other employee categories, individual and general employment contracts, remuneration, indemnity, and non-competition clauses, representation in labour disputes)
Recovering trade payables
Representation in proceedings pursuant to the act on public tenders
Internet law
Insolvency law
Property management
Representing foreign citizens before Czech authorities
Private international law
Exchange law
Representation in arbitration proceedings
European law (drafting complaints and representation before the European Court of Human Rights in Strasbourg)
Free access to information.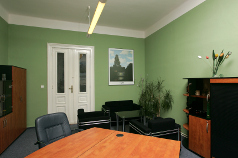 In the following topics we have tried to sum up recurring areas of legal problems that our office solves
1) Property rights in marriage
By contracting a marriage a property partnership, called joint property, is established. The property obtained by the couple in the course of their marriage is their joint property with the exception of gifts, inheritance and other cases listed in the law. In case the marriage is ended, the joint property is brought to an end as well. Thereunder, it is most appropriate to conclude a written agreement where all the property gained will be settled. It is, furthermore, possible for a court of justice to resolve the settlement. The law also facilitates for the joint property of the spouses to be arranged prior to the marriage or in its course by means of an agreement of the fiancées or spouses.
2) Assistance with loans
Written form is not required for a loan contract; however, it is recommended in case of a dispute. The debtor and the creditor may arrange an interest rate as a reward for the granting of a loan. It must be in compliance with sound practices. As a penalty for a delay in paying the loan back, a penalty clause, interest on late payment etc. may be included. To secure the bond, various means may be used, for example a lien, penalty clause, bill of exchange, guarantor or acknowledgement of the obligation by means of a notarial deed.
3) Representing companies for a flat fee
As legislation is constantly changing, it is advisable for every enterprise to collaborate with a practising and qualified lawyer, who is in daily touch with law practice. It is not always economical to contract one as an employee. It is often more to the client's advantage to make a deal with a legal advisor about granting legal aid at a flat rate. The lawyer then prepares documents ordered by the clients, represents them at legal disputes, deals for them with authorities, other institutions and contractors, and grants them legal aid in their or the clients' offices.
4) Internet law
Even though it may seem that almost anything is possible on the Internet, in this environment it is necessary to take into account that there are certain legal enactments which must be observed. It is true that their enforcement often poses difficulties and takes a long time. In connection with the Internet, these days is especially topical the issue of domains, Internet shopping, unfair competition, protection of personality, as well as problems concerning legal acts. The current legal regulations enable using e-mail e.g. for filing a suit and communicating with state authorities. Due to some of the technical problems regarding work with the Internet it is necessary to be aware of the risks that could, viewed from the legal perspective, occur while using the Internet.
5) Real estate transfers
Contractual matters related to property rights (ownership, lien, easement) concerning real estate require extensive expert knowledge. To put such contracts into operation, it is basically necessary to have permission of filing the property rights from the land-registry office concerned. Prior to the drafting of such contracts an extract from the land register ("Deed of Ownership") and a title deed, that is a contract or document proving that the current owner has acquired the proprietary right to the estate concerned, must be provided. Legal experts in our office are ready to render consulting when the property conveyance contract contents are being negotiated, as well as offer various ways of risk elimination during onerous property conveyance, assess tax aspects of the conveyance intended, represent the client in dealing with the land-registry office, and carry out the tax duties for the client.
6) Defence at criminal proceeding
The Czech constitution guarantees every client the right to be represented by a legal counsellor when dealing with a state authority. The need to be represented is then brought about most often during criminal proceedings when citizens' rights and liberties are usually jeopardised. The defence during criminal proceedings may only be carried out by a qualified legal counsellor, whether on the basis of a power of attorney or by being appointed by a court of justice in the cases when the legal code specifies the defence has to be provided.
7) Housing law
Title to flats and non-residential real estate is of concern to virtually anyone. This matter closely relates to renting, subletting as well as to the ownership of flats and non-residential real estate. The relevant legislation changes fast and it is no exception, that even the Constitutional Court changes or repeals parts of it. In near future there will be numerous disputes related to the definitive deregulation of the flats' rent. A well-designed contract on the relations to a flat or a non-residential estate is the only means to avoid possible costly legal disputes. In this respect, we have a lot of practical experience drawing up such documents, as we are able to foresee possible legal disputes which might arise between the contracting parties.
8) Recovery of outstanding debts - public auctions and judicial distraints
To satisfy one's claims or achieve repayment of a due sum is, from the practical point of view, the central goal of a potential legal action. In this respect, public auction is a tool providing the creditor with a significantly better position. A public auction run by a private entity enables repayment of the due sum from the proceeds of the auction of the lien subject. This possibility will be particularly appreciated by cautious creditors, who have established a lien to a real estate or any movable asset while establishing the contract relation. Another advantage of such a procedure is that the costs of effecting the auction are covered no sooner than its gains provide the money for it. Along with establishing the lien we also recommend to eliminate any delays and difficulties connected to the legal proceedings by arranging a notarial or distraint deed concerning acknowledgement of the obligation with an approval for direct enforceability. In such a case a mere non-conformance to the debtor's obligation properly and in time enables carrying out distraint. The Czech legal system contains a "court distrainor", who is, under specified conditions, entitled to recover payables on behalf of the creditor. The distrainor is empowered to find the most appropriate method of realizing the payables from the debtor's properties.